The classic facial includes all of the basics while also offering one on one advice from a skin therapist! Specific products for your skin type will be used and recommendations for home use and future treatments as well. A massage is included and you will leave feeling relaxed and your skin will thank you!  This facial includes Cleansing, Toning, Exfoliation, Mask, Massage, and moisturizer.  Extractions not included.
Our Specialized Facial includes Cleansing, Toning, Exfoliation, a customized Mask, Facial Massage, Specialized Serum, and a Moisturizer.  Extractions are included.  Relax and leave all of your stress and worries at the door while our Estheticians analyze your skin, use specific products for your skin type and concerns and provide customized advise and recommendations for home use as well as future treatments that may be beneficial to target your skin care concerns.
A highly effective treatment that helps resurface, restore, and add nutrition to your skin. They are customizable to help combat stubborn acne, pigmentation, wrinkles, rosacea and other skin concerns. Also included is a skin kit to be used for a week post treatment. A series of peels and a recommended at home regime can correct concerns and leave your skin feeling amazing!
Image 02 Oxygen Lift $130
The Image Skincare 02 lift facial is a luxurious facial treatment which infuses oxygen, plant-derived stem cells, peptides, and high concentrations of enzymatic botanicals into the skin, leaving it luminous, refreshed, and rejuvenated.  Perfect for tired or aging skin.
This treatment provides a superficial exfoliation of the skin and has many long lasting benefits! Decreases the look of fine lines, dull, uneven skin and minor skin imperfections. It helps to allow the skin to breathe and absorb while leaving it smooth and soft! A series of treatments is often recommended for best results of more severe skin concerns.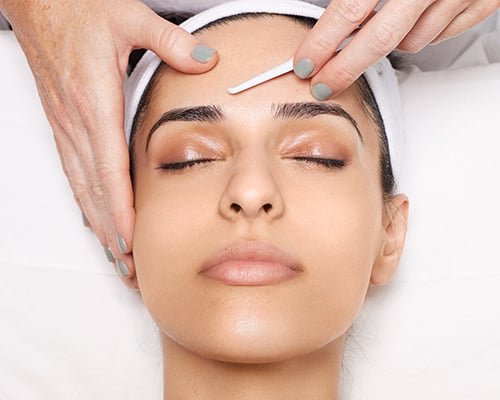 A method of exfoliation which uses a sterile surgical blade to gently remove the top layer of dead skin cells and fine vellus hair.  Revealing a smoother and brighter complexion!
Dermaplaning with Facial $160
Upgrade the exfoliation process during your treatment to give you the ultimate glow by adding in a facial.  Includes exfoliation, mask, and massage.
This minimally invasive procedure is achieved with surgical grade microneedles which puncture the skin rapidly & precisely to stimulate the skins healing response.  This controlled micro injury instructs the skin to heal slowly, activating collagen & elastin production.  After the healing, the skin has improved structure, firmness & elasticity.
Improve acne scars
Soften fine lines
Reduce pigmentation
Smooth skin texture
Minimize pore size
Achieve a more youthful appearance
Contraindications to microneedling: Cardiac disease, pregnancy, chemo or radiation, skin cancer, acctune (wait 6-12 moths), HIV, active Acne (to avoid the spread of bacteria), rosacea, Infection of any type, eczema, psoriasis or dermatitis, fresh sunburn, recent chemical peel
A state of the art treatment that uses extreme cold, or cryotherapy, to painlessly and safely destroy unwanted, benign and superficial lesions on the surface of the skin such as small moles and skin tags.